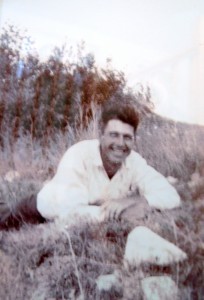 On this Father's Day, I look back and remember my dad, who was a prince among men. Tall, handsome and smart, he didn't make his mark on the masses, but he made his mark on me. I feel blessed to have had such a kind and loving father.
We used to dive for stones in Lake Manitoba, tickle one another and play chess at the cottage on Lake Winnipeg. I loved how he would swim on his back and invariably kick his legs, splashing me and then laughing as he got away with his surprise.
He taught me how to swim at Grand Beach, throw a baseball far for my high school games, ride a bike and drive a car. I learned to appreciate nature, when he took the time to observe new growth on a balsam tree or a woodpecker in the woods. Loving tongue twisters, corny jokes and quoting poetry, he taught me love of the word which led me to writing, so I thank him for that. I also thank him for leaving me with an appreciation of man, and what it takes to be a good man.
To all the good men out there, I hope you're having a good father's day, or will be a good father yourself some day or showing love in whatever way you can. And to those, who didn't have a good father, I'm sorry. My dad didn't have one either, but  he didn't follow in his dad's footsteps. It's funny, Dad died in 1985, thirty years ago, but I still tear up when I think of him and how much I miss him.
For me, there can be no greater success in life than being successful at loving those in your care. Happy Father's Day to all.