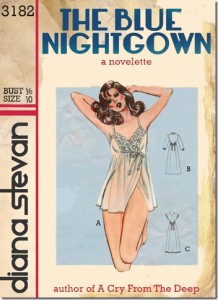 My novelette, THE BLUE NIGHTGOWN is set in the 1950s.
When Anna, the landlady of a rooming house, finds a blue nightgown in a tenant's trash, little does she know it'll bring out the sexual longings of anyone who comes in contact with it.
Launching a book is not the same as giving birth, nowhere near, but THE BLUE NIGHTGOWN is still my baby. Its gestation period was about ten years, which is ridiculous for a novelette, which is only one-fifth the size of an average novel. Perhaps I kept putting off the launch, because my story contains sexually explicit material—not easy to write about with any candor.
Though my novelette has adult content, it's not erotica, nor does it have graphic content like FIFTY SHADES OF GREY. It's women's fiction, a story about one family's secrets that highlight what sex was like in the 50s. Even though today's films and discussion on social media show a greater openness about sex and sexuality, most of the public still prefer to keep that part of their life hidden. So that much hasn't changed. We all have secrets.
THE BLUE NIGHTGOWN is now on sale as an e-book on Kindle. I hope you enjoy the read. And if you do, please leave a review on the site where you purchased my book.