What Does A Ring Say About Love? That popped into my head this morning, as I thought about how my story, A Cry From The Deep
 , came to involve a ring of such significance. I can't remember how I came up with the idea of having an antique Claddagh wedding ring play such a major role.  A ring linking one woman from the distant past with a woman in the present.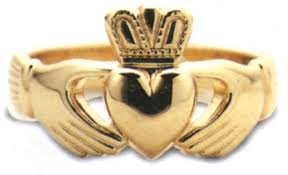 The Claddagh Ring symbolizes "love and friendship".  A wedding ring is a concrete promise of commitment…till death do us part. Eternity…a beginning without an end. Everlasting love.
Wikipedia states that it's "widely believed that the first examples of wedding rings were found in ancient Egypt." Back then, about 3000 years ago, rings were made by braiding hemp or reeds and then exchanged by the bride and groom. The circle was the symbol of eternity, and the ring a sign of never-ending love between the couple.
In my novel, I talk about a promise that would not die. A ring from Ireland symbolizes that promise. I wonder if you have a ring that has special meaning, one that you will carry to the end of your life.
I was married with one ring, a simple white gold band, and then later when my husband and I were backpacking through Europe with our children, fifteen years later, we found another on the Ponte Vecchio in Florence, Italy.
We saw this artisan carving 18K gold rings and they were so beautiful that we bought matching ones.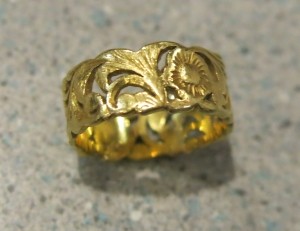 I treasure it but notice, because of the softness of the gold, the design is wearing with time, much as I am.
I remember my mother talking about her ring, the one she got from my father in the dirty thirties, the depression that hit North America like a knockout punch. She said, "my diamond is so puny." I think this was after she had admired my mother-in-law's that was a karat and a half. Jealousy had reared its ugly head. My mother's ring was indeed tiny, but was it really that important how big her diamond was, or was it more important that it was the symbol of my father's love for her? It was all he could afford.
In my story, the ring has its own journey. Do any of your rings have stories to tell?