"A rose by any other name would smell as sweet" argues Juliet in Shakespeare's Romeo and Juliet. She is trying to make a point that what matters is what something is, not what it's called. Ah, try and tell that to agents and publishers in today's writing universe.
Just recently, it was revealed that J.K. Rowling (famous author of the Harry Potter series) published the novel, The Cuckoo's Calling, under a pseudonym, Robert Galbraith. As successful crime writers tend to be men, she thought she'd use a male pseudonym for her first crime novel.
Though the reviews were stellar for a debut crime author, sales went nowhere until  her true identity was revealed. And then, the book's sales shot up into the stratosphere.
So, what does that tell us? Good writing helps but it's not the sole reason that people buy books. As written in the wonderful post on bookdesigner.com, name recognition, i.e., the author's platform, is a key factor in book sales.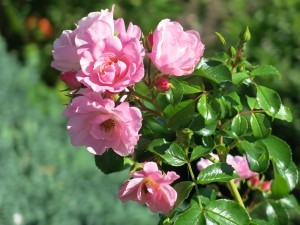 But then there's the story about a debut author who chose a pseudonym for different reasons. He could've promoted himself by using his own name (Joe King) and didn't because he had something else to prove. As the son of Stephen King, the prolific bestselling novelist, Joe  began to labor at his craft at the age of 11, writing daily. He wanted to make it on his own merits and not trade on his father's name. Using the pseudonym, Joe Hill, his first two novels were rejected. He became a published novelist for the first time at 35 with the book, Heart-Shaped Box. Who knows if his journey would've been easier if he had used his family name.
And then there are those who use their fame to get their memoirs, children's stories, and cookbooks on to the book shelves. Are they written better than ones written by those in the shadows? I doubt it. It's a curious business, but when you know the rules, an understandable one.
So, what's in a name? I'd love to hear your thoughts.
You may also like: