A recent post by Porter Anderson on Jane Friedman's blog caught my eye. In this article, entitled, When Bad Things (Seem To) Happen on Good Sites, Porter writes about the recent drama over one author's negative experience on Goodreads.
It got me thinking about the power of words—the author's and those of the readers who critique—and how they can make or break an author's career. When readers post negative comments about a writer's work, it's not surprising that the writer retreats, like the one mentioned in Porter Anderson's post.
When I was in Tofino, on Vancouver Island, a few weeks back, I witnessed a sea anemone pull its beautiful green extensions inward when poked gently with a stick. It did what it could to protect itself. It couldn't fight back, so it retreated, much like writers do when their very words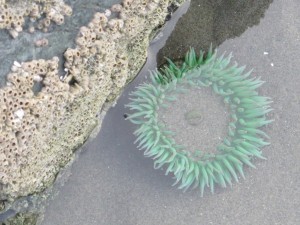 are given a bad review.  It's hard to stand up after a knockdown punch from critical bullies without looking like you're egotistical or naïve or bitter or someone who can't take their lumps (whether they're true or not).
Not every book is a winner nor does every book deserve high praise. I have no problem with less than stellar comments about books and take readers' reviews with a grain of salt. I do take more seriously literary critics' reviews, but even here, I haven't always agreed. And like taste in anything, we readers—I'm an avid one for what writer isn't—can be particular. I've read books that have been given the top awards and yet, for whatever reason, they did not register with me. I've read others that I've loved and wondered why they'd been overlooked. For me, the answer lies not only with the quality of the prose and the story, but also with the subjectivity of the reader.
It's not unlike going to an art gallery and staring at a painting of note and wondering what I'm missing.  Is it my lack of understanding of what makes a painting great? Or is it hype that's made it one that's garnered all the attention?
But back to badmouthing on Goodreads. There is such a thing as kindness. How the critique is given makes all the difference.  I rarely give five stars to a book ***** and don't give less than three ***to any. Those books that I believe (and that's the point, huh, it's only my opinion – one person) deserve less than three, I don't even mention. Most of these I couldn't finish for obvious reasons.
Which brings me to what I've been mulling about, which is whatever happened to – if you can't say anything good, don't say anything at all?
You may also like: